I've been getting a couple questions here and there about certain systems and functionality we're planning for REGAL, I figure it's time to get some info out to the people ;D
Is Path Finding and Set Move Route commands going to be available with this system?
We're going to do our best to include path-finding functionality, either utilizing some kind of A★-like system or a node-by-node system, perhaps even a mix of both. You can still event step-by-step move routes similar to how you would in an RM project, this just gives you additional functionality with it ;D
A★
is really convenient, but the reason I like the
Node x Node
system better is because it just offers more control and probably wouldn't be as heavy with sometimes
unneeded
calculations. More management, sure, but you'd be able to assign certain key points and the paths between 'em, as pictured below...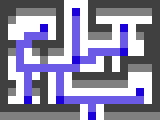 Then you'd just run your event like...
@> Move to Node : Game Player, 'By The Cave'
Instead of having to calculate
every
passable tile on the map and account for nonsense (however A-Star works, I actually don't know off the top of my head), you can define a semi-linear path from node to node to make it easier on the system, less background calculation. If you have a series of events heading towards the same node, they don't necessarily have to travel in a perfect line, but they'll already have the passages and in-between key points defined for 'em so they'll have an idea of where to go.
Visually, this system would work like...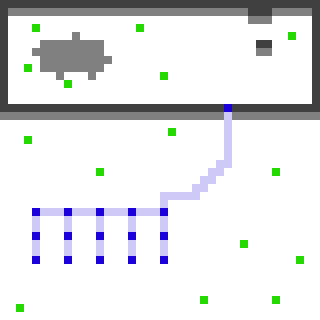 One thing you'll still have to manage is the enabling and disabling of path nodes when the situation calls for it, example below...
The red path represents a couple of disabled nodes, both sitting inside locked rooms. When nodes are disabled, you can still use 'em in events, but they're excluded from certain methods such as
$game.player.find_closest_node
(x, y) and the like.
"So what if you're trying to find a moving event and

not

a static point on the map?"
You'd still use REGAL's equivalent to RM's
Move Toward Event
call, but it would utilize the nodes to calculate way points between player and destination event, purposely breaking the path and sending you directly to the event when you're in proximity of it.
If there are no nodes on the map, it'd probably still use the primitive method of moving towards event/player. Or an A-Star system o.O
And I figure one might inquire...
"What about mouse-based click-n-find functionality?"
We're already aiming for fully functional mouse and keyboard calls, game-pad support, etc so
that
functionality already (conveniently, mind you) falls within the stack of
high priority tasks
. In other words, it's a given, we're planning to have that feature included!
Heck, it's already planned to be an event function, assisted by the node-by-node system ;D
@> Player : Move Towards Mouse
"There are 3 roads I could take; the high road, the low road and the between road. Which one is the shortest?"
Thankfully
, the system should be able to answer that question
for you
. Again, all you'd have to do, as a developer, is define the shortest linear paths between point A to point B, C, D, Etc....
Seriously, the way it's planned, it'll be simple! We'll include a map layer that is dedicated officially to Nodes and way paths, it'll be a blast! :D
Actually, now that I think about it, maybe we'll include a function where you
Right Click the Node
> Select
Generate Quick Path
> Select
Other Node
and then done!
Further questions, comments or suggestions?
I'm open for all of the above^ :D