Impeach Your Least-Liked Character!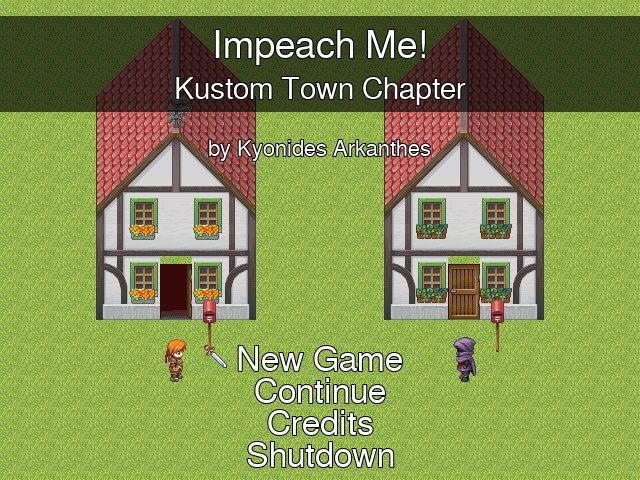 Yeah, I know, people

you're bore of discussing who's being impeached, why and if it was even worth paying attention to it. No matter how long we think about that, we'd just get dizzy at the end, right?
Well, what about making it funny?

By just disregarding real politics and take the impeachment procedures straight to the RTP world, we could get rid of all that stress that's being accumulated, don't you think?

Since there isn't any default system to quickly configure a post here, I'll just ask you to post a reply telling me what characters would you like to get either impeached.
Of course, in order to impeach anybody, we need the target to be elected first, right guys?

Currently we already got these
mayoral candidates
:
Aluxes

- he couldn't be forgotten, don't you agree?


Basil

- well, it's his fault for following Aluxes everywhere


Cyrus

- the bone crusher maniac


Trickster

- the weird hooded guy


BountyHunterLani

- yeap with her own character sprite this time!


Wulfo

- former Lani's campaign advisor now turned into a full fledged candidate

Feel free to suggest any new candidates!

This
game project
won't ever start if you don't...

"For God has not destined us for wrath, but for obtaining salvation through our Lord Jesus Christ,"

1 Thessalonians 5:9
The Internet might be either your friend or enemy. It just depends on whether or not she has a bad hair day.





A compiled binary executable I have published...
HiddenChest
Just some scripts I've already published on the board...
KyoGemBoost XP VX & ACE
,
RandomEnkounters XP
,
KSkillShop XP
,
Kolloseum States XP
,
KEvents XP
,
KScenario XP & Gosu
,
KyoPrizeShop XP Mangostan
,
Kuests XP
,
KyoDiscounts XP VX, ACE & MV
,
KChest XP VX & ACE 2016
,
KTelePort XP
,
KSkillMax XP & VX
,
Gem Roulette XP VX & VX Ace
,
KRespawnPoint XP, VX & VX Ace
,
GiveAway XP VX & ACE
,
Klearance XP VX & ACE
,
KUnits XP VX, ACE & Gosu 2017
,
KLevel XP
,
KRumors XP & ACE
,
KMonsterPals XP VX & ACE
,
KStatsRefill XP VX & ACE
,
KLotto XP VX & ACE
,
KItemDesc XP & VX
,
KPocket XP & VX