03-25-2020, 03:33 AM (This post was last modified: 01-13-2021, 11:48 PM by DerVVulfman.)
HALF-KAISER
BATTLER PROJECT
Many a year ago, a member of the RPGMaker community created his own sprite template.  Larger than the default RTP character, it offered more detail than most others. His name was Showkaiser, and he with others at the forum then known as RMXP.Org had endeavored upon the 
HKCP: The Half Kaiser Construction Project
.
The
HKCP 
was an endeavor to craft clothing, arms, armor, hair and other accouterments for Showkaiser's unique template. Plenty of hair styles, some offering of armor, various dresses and clothes were crafted. However, its size was thought to be a bit cumbersome for dungeon crawls in a 640x480 resolution screen.
But for a side-view battle system, the template would seem quite fitting.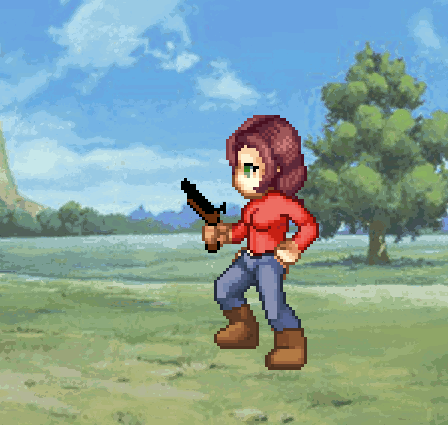 While a new master-template is in the works,  you have temporary access to eight different side-view battle system templates made in the traditional Minkoff 11-pose style. Each one of the templates is  rendered in the art style of Showkaiser. And perhaps, some were made by Showkaiser himself.  One of the templates can be seen within the spoiler below:
And you can find the original Templates prior to this endeavor right here:

HALF KAISER TEMPLATES.zip
(Size: 131.26 KB / Downloads: 19)
(
Updated ones follow this post.
)
Not only that, I have a little project where you can test your work right here, the HK Template Tool:

HK Template Tool.zip
(Size: 982.52 KB / Downloads: 10)
If non RMXP users are having 'missing RTP' issues, edit the project's INI file and eliminate the 'Standard' entry.
Can you trust online sideview graphics?  Maybe not.
Too many a times have people discovered that their battlers or graphics have been ripped by games such as Ragnarok Online. And many a times, the poster makes claim that he/she is the actual artist whilst posting copyrighted material. So what can one do but either work laboriously upon their own graphics or utilize graphics of a more simplistic fashion.
This is where you come in...
The purpose of this thread is to promote the creation of various graphics which can be used with the Half Kaiser battler templates.   Recolored, one hair style can make many. A mere few shirts, swords and hairs can make a good number of battlers by themselves.  So it is the intention to make a decent resource set for all users of side-view battlers without the frustration of finding their resources stolen or ripped.
I do suggest some guidelines for submission of course:
 

No ripped content.  That should go without saying, right?



 

Content posted is basically freeware. How can it be a community project if not for the community?



 

Content should be permitted for all projects, be it commercial gain or otherwise.



 

Content is posted within this thread. Please label appropriately as completed or work in progress



 

Submitted resources follow a specific naming convention (see below).



Your post is yours.  
The eventual goal is to have a bundled package or resource set for use. So material content you post will very likely become a part of the package. However,  any individual post you make can be edited by you if you wish to make updates or add / replace content to the post.
What do you get out of it?
Fame.  Yeah... well, that's about it.  But it may go a long ways for name recognition. Anyone who wishes to use the work within this project MUST give proper credit to the artist(s) who supplied graphics in use.  If, as an example, a game developer made battlers using hair and armor from Manco and swords  and shields from Cleef, the developer would be required to have Manco and Cleef be declared as artists for his game.
About Standard Conventions...
Graphics uploaded need to use a special naming convention.  Typically, it would be the gender, the type of object, its color, and then the name of the artist, each of these separated by dashes or underscores (no spaces between).  If Manco above made a female's brown hair, his filename would be "F_Hair_Brown_Manco.png."  For a package set, changes may be made to the filename, but this perhaps to separate different types of hair (ie Hair01, Hair02, etc).  However, all filenames will have the name of the artist within. You may submit, if you desire, your actual name rather than forum username.  But that is your choice alone.
Again, the naming convention for a file resource is: "(Gender)_(Item)_(Color)_(Artistname).png"
The resources themselves are Spritesheets that encompass many action poses, more than those that would be visible, over 40 poses in fact. This to be used in the now-released Layered Battler Tool (see below) which allows other users to MIX-N-MATCH whatever poses they want in whatever order they want. And unlike most, each frame is 145 X 130 in size which supports larger weapon attacks to be shown.
Again, each frame is 145X130 in size. Please examine the uploaded templates (below) for more reference

How do I sprite this stuff?
Regular spriters would know this.  The work you make is of equal size as the template(s), and with a transparent background. If you are making hair for a template, the hair must be applied to each character graphic (or cel as in cel animation). And anything drawn must stay within the confines of each cel... no overlapping.  Without an actual character generator, it may be a bit harder to see if the hair moves the way you wish. But something simple to help view animations may be coming soon.  Nothing flashy, but useful at least.
Was something missing?
Well, yeah.  More than half of the battler templates had one or two 'poses' that were not completely shaded, or pillow-shaded.  Pillow shading is the term used to describe the manner in which multiple shades are used to give the sprite a more 3-D or rounded shade effect. Only the Dagger, Gun and Sword templates were complete, but all the others have been taken care of.

Along with that, the templates were all 'masculine'.  There were no existing female templates.  So I basically tweaked all of the eight original templates to provide a female option.  I did this with the understanding that the same space and features like weapons, shields, or hair needed to occupy the same space without difficulty.
Gender differences in templates...
Like I stated above, the original sideview battler templates only depicted male heroes.  Pfft---*  There's obviously a need for female action heroes, and you can't just dress up a guy with a dress.  That never works. So for any who found need to see why differences were needed, I present below a shot of the traditional half kaiser 'charactersets', both male and female renders side by side.
Normal and 3X Resolution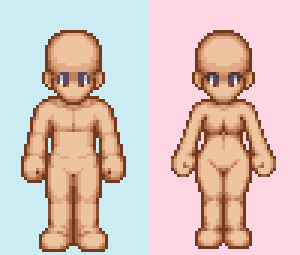 So without further adieu, let's have FUN!